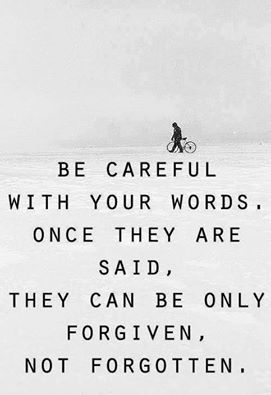 Choose your words carefully – they can bless and encourage people or hurt them. And can be remembered for eternity…
How many times have careless words, thrown away by a colleague or manager, left you with a sour taste in your mouth?  Some of us even remember times from our childhood when a friend, peer or adult said something that left a deep impression on our memory.  In these days of the instant message, the quick email or tweet, it's even easier to cast words into the world without much thought.
Yet we need to think carefully before speaking – none more so than in the pressure-charged atmosphere of the modern workplace, where urgency and sometimes overwhelm can leave us little time to think.  This applies to both the every day and also to the more obviously important conversations like appraisals and performance reviews or planning sessions.
If we get it right – our words can encourage, bless, positively challenge and motivate others.
If we get it wrong – at best it can create a mental 'ouch!'  At worst, it can pierce the confidence of someone and create the conditions for a downward slide in motivation and performance.
So – in the heat of the moment when words are burning the tip of your tongue to be spoken – take a deep breath, bite your tongue and just play out in your head the words and the tone you were planning to use to test it for 'sting'. Never release words in anger in the heat of the moment. And in planning for the bigger conversations – consider the outcome you want from the conversation – perhaps someone who is clear on what they do well and with a plan to improve on some specific areas, and who feels motivated and empowered to make those changes, and plan your words carefully to achieve it.
Be careful with your words.